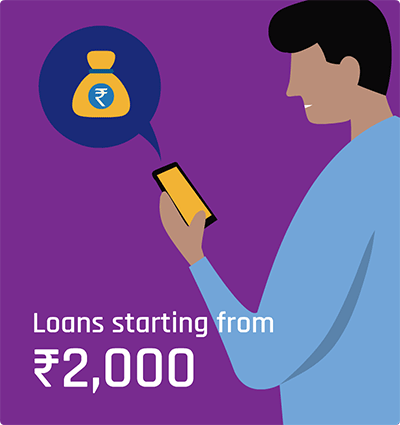 Flexibility in credit amount
Financial needs crop up in many forms in your day-to-day lives. Sometimes you need small cash loans to keep you going till the next payday. Sometimes you need a larger amount to make big purchases or deal with emergency requirements. That is why our loan offerings start at Rs. 2000 and go right up to 2 lakhs.
No extensive documentation
Extensive paperwork is one of the things that usually make loan application processes so tedious. With our minimal documentation requirements, we have made it easy for you to get instant loans without having to dig out all your important papers and certificates.
All we need from you are:
A selfie
Your PAN card
Any one government ID
Digital submissions
Nobody likes to fill out endless forms or submit their original documents for verification – and we don't ask you to. With LoanFront, the entire application process is handled digitally. Just fill out your profile information online, and click photos of your documents and upload them. Simple as promised!
Decision within minutes
When you need some quick cash, it is frustrating to wait for your documents to be manually processed and approved. With LoanFront, you don't have to go through that long wait ever again. Our digital approval process ensures that your documents are verified within minutes!
Immediate transfer
Wondering how long it will take for the money to be disbursed once your loan is approved? Check your phone – it might already be credited to your account! You can expect instant cash in your bank account within 30 seconds of your application approval.
Easy repayment options
Once you receive the loan, do not worry about confusing and complicated repayment terms. Our tenures range from 15 days to 365 days and Personal Loan ranges between 91 days to 180 days, making it easy for you to plan out your repayment strategy.
How fast can I get a loan?
We get it – people usually apply for loans when they need money urgently. And in such a situation, the last thing they can do is wait for long periods of time until the money comes through.
That's why, speed of delivery is one of our top priorities. Thanks to our fully digitised processes, we are able to come to your financial aid when you need it most. If your loan is approved, you can have the money in your account within minutes! Want to know more about the processes?