Don't worry about money.
#GoLoanFront
&
get quick personal loans, as and when you need.



Loan Amt Disbursed
800Cr+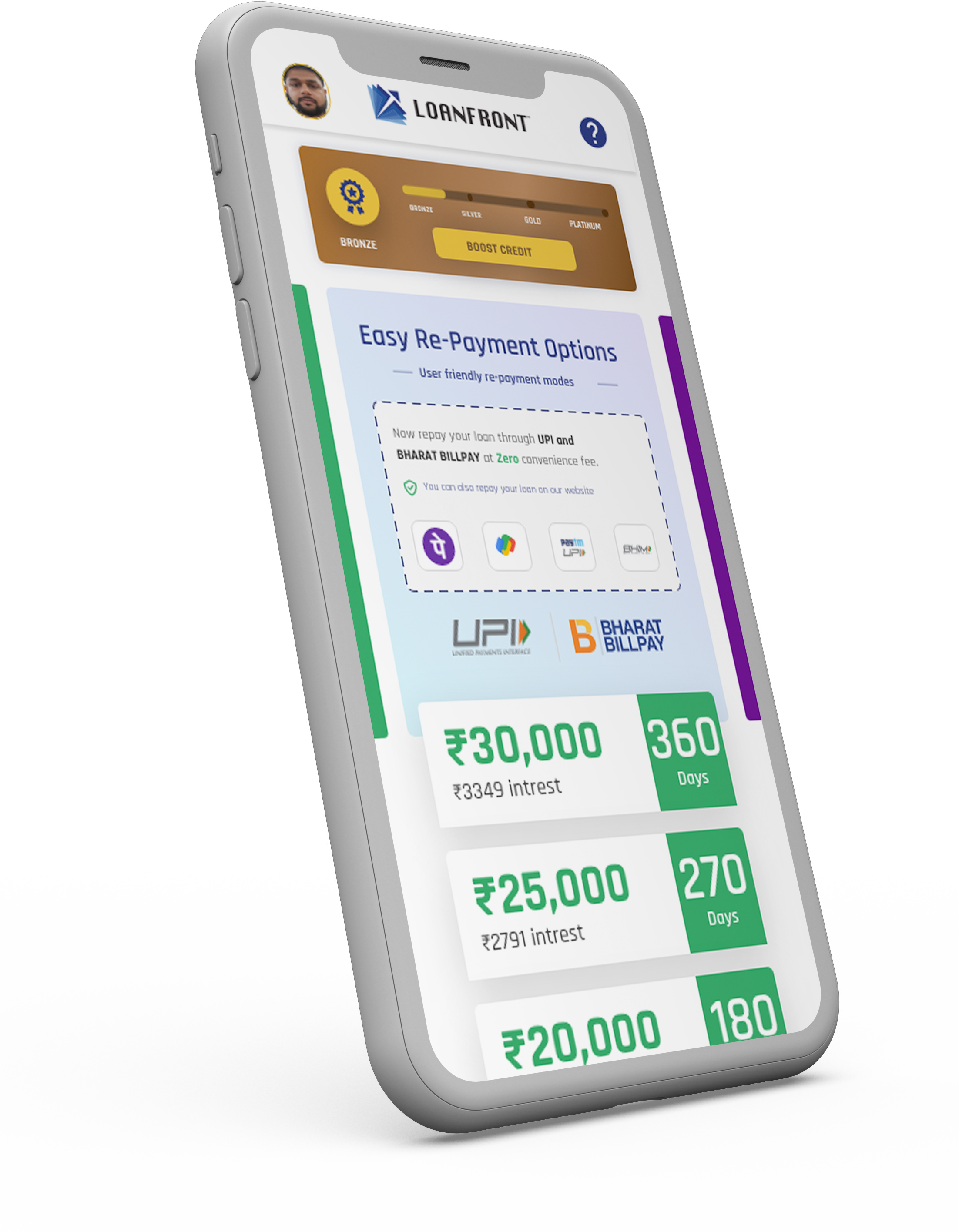 YOUR PROFILE IS
NOW PLATINUM

YOUR PROFILE IS
NOW GOLD

YOUR PROFILE IS
NOW SILVER

YOUR PROFILE IS
NOW BRONZE
Sign Up & Check
Eligibility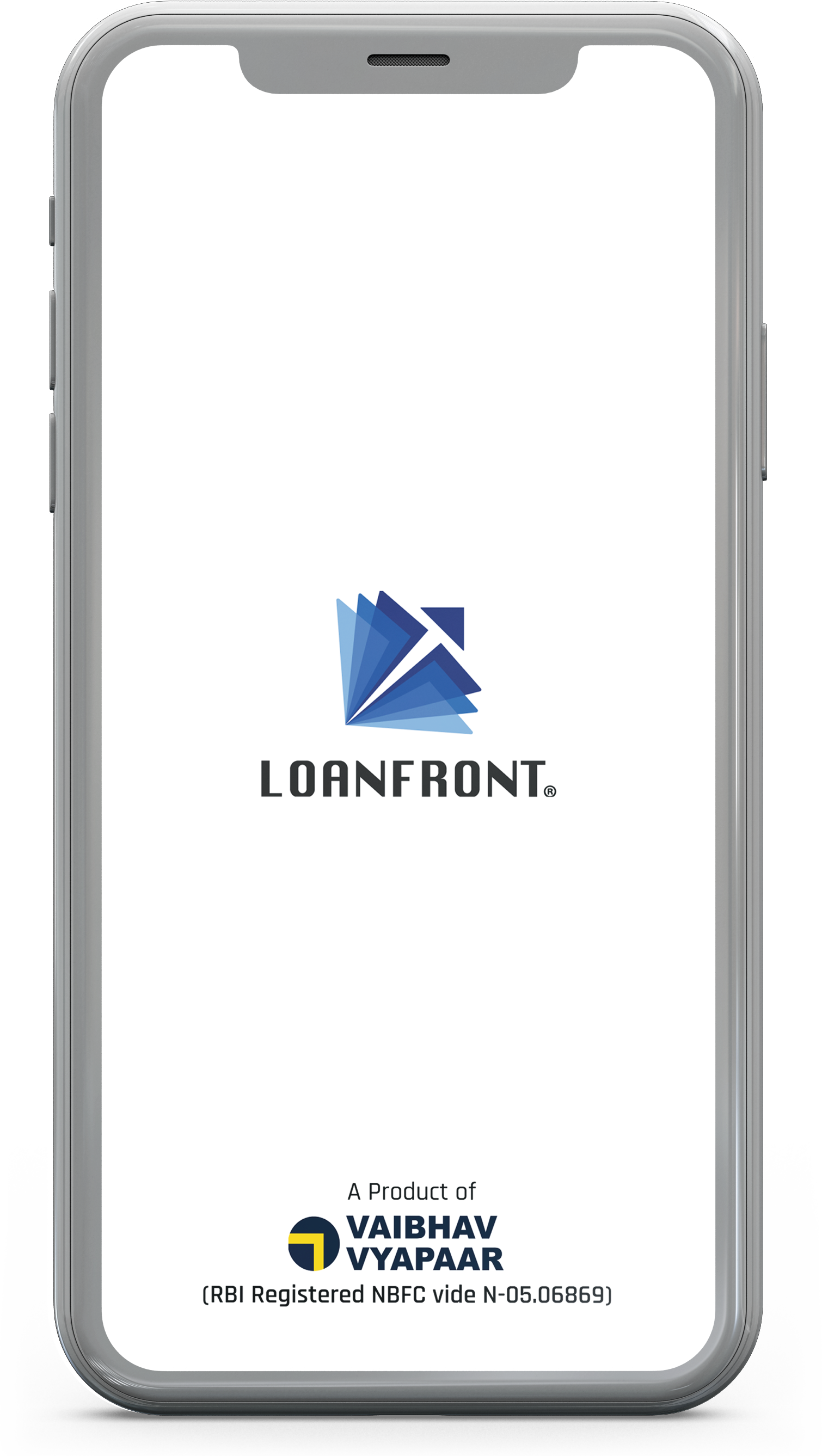 Why LoanFront?
Wondering if we are the best personal loan app for you? Here are a few things that set us apart:
Flexibility in
credit amount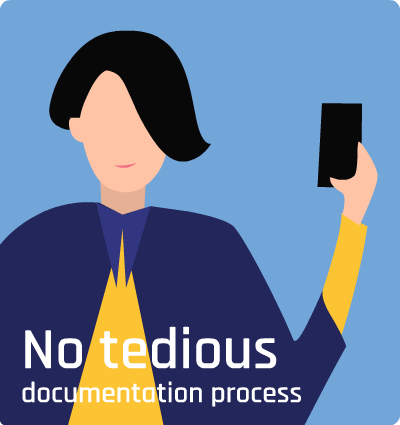 No extensive
documentation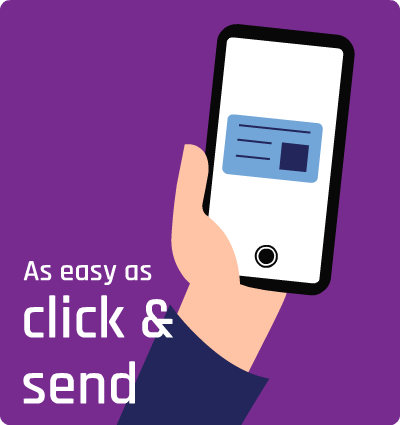 Digital
submissions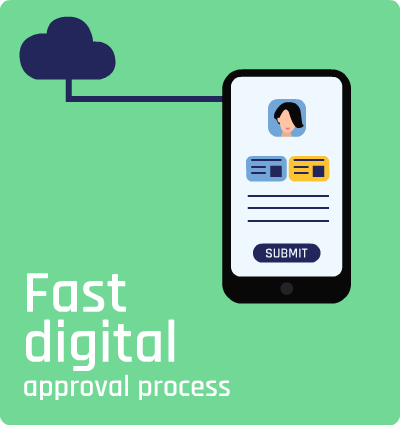 Decision within
minutes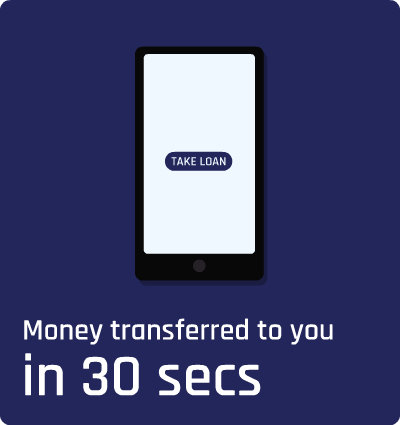 Immediate
transfer

Easy repayment
option upto 365 days
How fast can I get a loan?
You will get it right away!! – people usually apply for loans when they need money urgently. And in such a situation, the last thing they can do is wait for long periods of time until the money comes through.
That's why, speed of delivery is one of our top priorities. Thanks to our fully digitised processes, we are able to come to your financial aid when you need it most. You can often get loan within minutes and might even get an instant decision depending on your financial behaviour and quality of your documents. Want to know more about the processes?
Who can apply for a loan?
Looking to apply for a quick personal loan! Let's get you started with a quick eligibility check.
Here are our loan application criteria: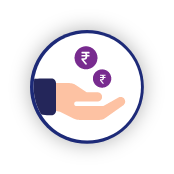 Documents required
Forget about having to dig out all your important documents.
All we need from you are:
A selfie
Your PAN card
Any one government ID
Employment/Income proof
About Us?
LoanFront is a digital lending platform of Vaibhav Vyapaar Private Limited. LoanFront is a simple, yet powerful digital platform that provides personal loans to salaried as well as self-employed professionals. The app is completely digitally driven, and the entire loan application process can be carried out online. LoanFront requires minimal documentation, so the entire application process should not take you more than 15 minutes to complete. On approval, you can receive the money in your account instantly.
Hear it from our customers across India
---
Vishanth Kumar

LoanFront is a very quick and convenient instant loan app. Loan amount will be credited to your account within 15 mins and a very good response from the team end. Repayment tenure is also very optimal. I highly recommend it to everyone who needs a short term instant loan. Thank you LoanFront for the service.
Jai Eshwar

Best instant loan application ever! LoanFront is one of the best customer-friendly loan-providing apps that allows you to avail loans to meet your financial emergencies like medical bills, rent, travel overseas, etc. Moreover, the best part about taking out a loan is no paperwork. Thanks to Sandeep, excellent coordinator from LoanFront.
Rahul Kumar

LoanFront is the best loan app I have come across . They are very considerate in terms of interest and service charges. They have an excellent customer service team. Even when you could not meet the repayment dateline, they still consider, mind the way, talk to you and encourage you to pay up . I recommend this LoanFront App anywhere anytime.
Naveen Alapat

Thank you so much LoanFront. Very good app and customer support is very good. I have taken out a couple of loans in emergencies and have been using this app for many days. It's very useful for any emergency services. I recommend everyone to install the app. Thank you LoanFront app.
Shaik Babavali

It's a very cool app. I used it with no problem and it was very easy to apply for a personal loan in the app. It gave a very good service. I would suggest to anyone who needs a loan in case of emergency, please go to LoanFront personal loan application. Everything is fine, especially since the repayment duration is good, you have to choose the available options. Thank you very much, team.
Kalai Gokila

This is a very useful app. Its fast and quick loan disbursement is a smooth process. Their customer service is also very supportive. Low EMI tenure is very helpful. I am very happy with the LoanFront app. I thank you for your support and helping me during my tough times.
Esakki Raja

Thanks a lot to LoanFront team. I have come across many loan apps till now but this app has been the best. It is very easy to use. I used this loan app during my emergency times. Customer service is very good and very gentle. Their low interest rates helped me big time. I recommend this app to whoever is searching for a loan app. Best loan app.
Masilamani Mani

I am happy with the LoanFront online money application loan credit app. It has always had my back during my emergencies and my all-time needs. Convenience of paying EMI in Installments with a low level interest rate are very helpful. I am very thankful to the team members for providing the best service.
Rajesh Acharya

Wonderful app and has wonderful customer service. Initially my eligibility was less but I requested for a 30k loan due to an emergency requirement. They understood the requirement and within a few hours they increased my limit and the loan got disbursed. One of the best apps on the store. Thank u :)
MITTE NAGARAJA

I had a good experience with the application. It is awesome. LoanFront has stood out as a genuine one. It has been the best application so far for me. Don't hesitate. This is an Amazing application. I suggest everyone in need use this app.